Amid verdant, rolling lawns, encircled by a rough-cut stone wall, the Gothic Revival–style parish church of St. John's Western Run occupies a site where Episcopal worship has been conducted continuously since 1820.
In 1815, the large landowners of the area—the Worthingtons, the Johns, the Gills, the Walkers, and the Johnsons—led the effort to secure an Act of the Maryland Assembly to conduct a lottery to raise funds and build a new "Protestant Episcopal Church" on this site, carved from Charles Walker's adjacent "Woodburn" estate.
The completed stone building, resembling a large meeting house, seated 300 congregants, including enslaved persons. Although early ministers served short tenures, the Reverend Ethan Allen, and his successor, the Reverend Arthur Rich, ably guided the newly created "Parish of the Western Run" from the late 1840s through the 1850s. In 1842, a leading parishioner donated the stone walls encircling the church and burial ground, as well as the handsome stone rectory.
After disruption in the Civil War, St. John's reopened in 1865 with the appointment of the Reverend Alexander J. Berger.  Berger's tenure included a disastrous fire on Christmas Eve, 1867.  His assiduous leadership of the rebuilding resulted in the magnificent architecture of St John's Church today.
By the 1890s, the church was struggling and, like the farms of its Valley members, suffered from a dwindling population and meager income. With St. John's nearing closure, a different group, mostly the new owners of nearby horse farms, took an interest in the parish. Especially through the benefactions of Mr. and Mrs. C. Wilbur Miller, St. John's came to life again. The church was thoroughly renovated in 1927–29, with new Gothic-style fittings and altar, a pipe organ in the back gallery, and stained-glass windows from the studio of Boston artisan Charles Connick.
In 2021–2022, St John's was fortunate to work with Jonathan Poston, a lawyer, historian, and preservationist, to uncover lost documents and previously unknown narratives about the people who have called St. John's their church home during its more than 200 year history. In a lecture on his research (included below), Jonathan explores St. John's long-standing Christian commitment to being the people of God in this outpost of the kingdom in the face of all kinds of challenges.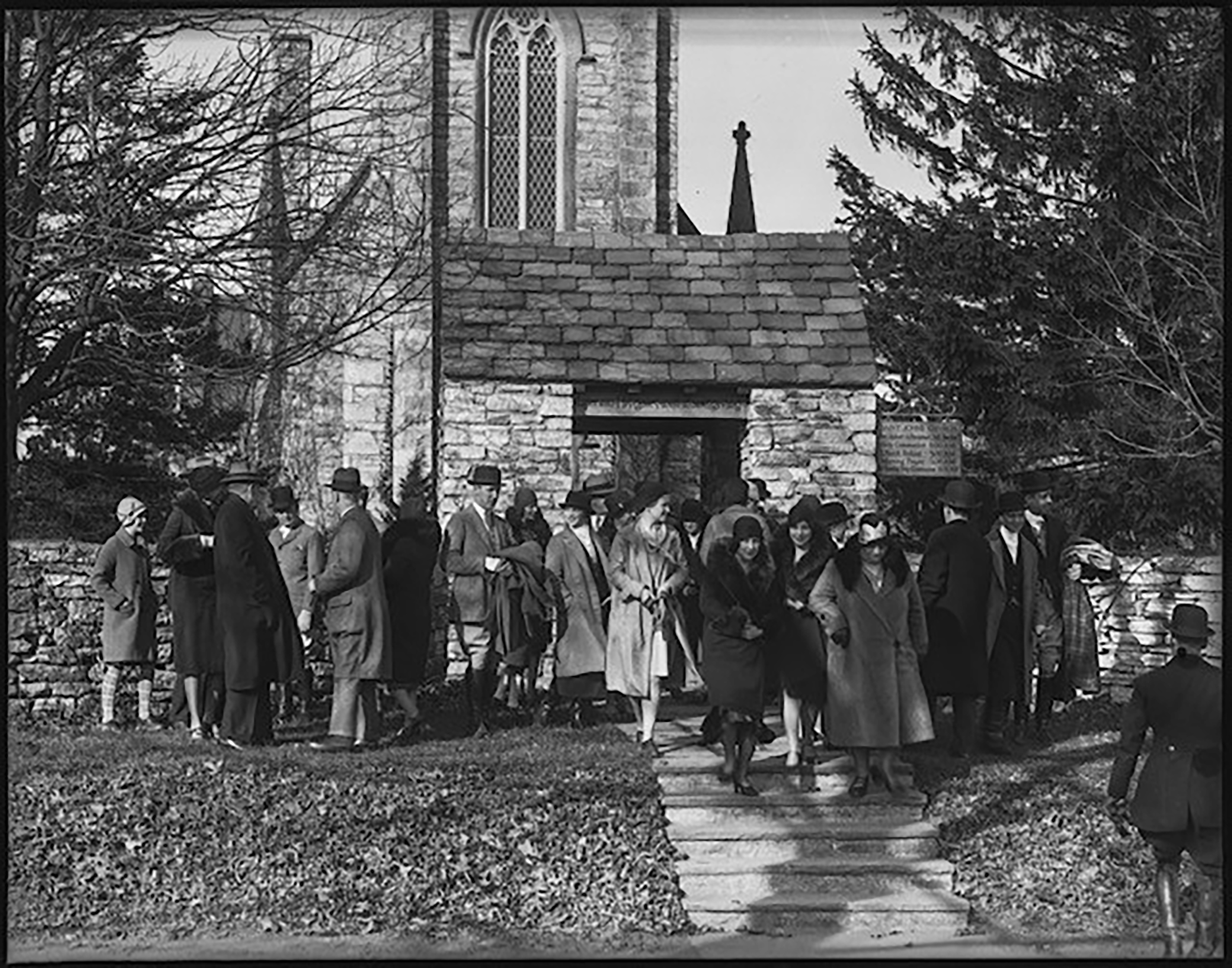 Photo shows congregants passing through the new lych gate on Thanksgiving morning, c.1931, prior to the Blessing of the Hounds. (Courtesy of Center for Maryland History and Culture.)
Click on the carousel above to enlarge images.