Music In The Valley brings world-class musicians to St. John's Church. The concert series began in 2008 in partnership with Jonathan Carney, concertmaster of the Baltimore Symphony Orchestra, to fulfill a need for quality chamber music in this mostly rural area. Past performances have included classical music ensembles that have met with rave reviews. Each performance begins on a Sunday evening at 5:30 and is followed by a buffet/reception where concertgoers can mingle with the artists.
Reservations for each concert can be made by calling the church office at 410-429-4690 until noon on the Friday before the concert. Adult seats are $35 if purchased online or with advance reservations and $40 at the door.  Student/child tickets are $15 in advance and $20 at the door.
---
Information for the 2018 – '19 Music in the Valley Season is coming soon!
---
2017 – 2018 Music in the Valley Schedule 
September 10, 2017   5:30 p.m.
The Monument Trio
Jonathan Carney—violin, Dariusz Skoraczewski—cello, and Michael Sheppard—piano, make up this talented trio. Come and enjoy the opening concert of this wonderful series.
---
October 15, 2017   5:30 p.m.
The Coucheron Siblings
David Coucheron—violin, & Julie Coucheron—piano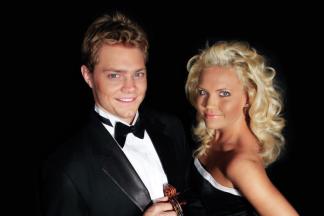 David Coucheron joined the Atlantic Symphony Orchestra as Concertmaster in September 2010 as the youngest concertmaster among any major U.S. orchestras.  Julie Coucheron, David's sister, has established an international career winning prizes in Italy, Germany and in the United States.
---
December 3, 2017   5:30 p.m.
Jean Ferrandis, flute, & Michael McHale, piano
Returning to Music in the Valley, Jean Ferrandis, the highly acclaimed French flutist and Michael McHale, Irish pianist who studied at Cambridge and the Royal Academy of Music will once again thrill us with their program.
---
March 4, 2018    5:30 p.m. 
The Maryland State Boychoir
The much-loved and world-traveled choir of young men ages 7 to 20 from our own state will present a delightful evening of choral selections.
---
April 22, 2018    5:30 p.m.
Trio Sirènes
Trio Sirènes, comprised of flutist Marcia Kämper, violist Karin Brown and harpist Jacqueline Pollauf, enjoys pushing boundaries and will delight us with the diverse sonic possibilities of their wind, string and percussion instruments.
---
June 17, 2018    5:30 p.m.
Jonathan Carney and Friends
It is always a great privilege and pleasure to welcome Jonathan Carney and his friends back to Music in the Valley every June to share with us their great talent.  You won't want to miss this evening.