The end of October is always quite exciting here at St. John's, but this year, our last Sunday in October will be spookier than ever! Wear your costumes to church, join us for pumpkin carving at coffee hour, and come back in the evening for a spooky organ concert. We hope to see you in your Ghastly Best for one (or all) of these events!
Our Annual Halloween Dress-Up
Come to church in costume! Before the COVID-19 pandemic, our zany choir director, Ben, organized a group dress-up for the entire staff. In our first year back to in-person worship, we invited the whole congregation to join. This will be the third year in a row of dressing up for Halloween. And, of course, you can bank on the choir coming with something special up their sleeves. You won't want to miss it!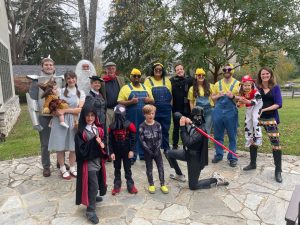 Pumpkins on the Wall
Each year, we carve pumpkins at Coffee Hour one Sunday in October. After we're done, we put them up around our historic wall. This year's pumpkin-carving extravaganza will be made even more special by being in costume while we have fun making pumpkin art!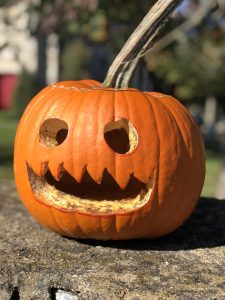 Celebrating an Organ Birthday Spooktacular – Our Organ Turns 30
At 5:30 p.m., celebrate the 30th anniversary of our Taylor & Boody pipe organ with Halloween music, treats, and vibes! (feel free to come in costume). This concert is FREE and open to the public, and childcare will be provided. There will also be a light reception to follow in the Parish Hall.
The concert will feature local organists: Benjamin Buchanan, Douglas Buchanan, Ted Davis, and Marie Herrington. Musical selections will include works by J. S. Bach, Gyorgy Ligeti, John Williams, Edvard Grieg, Claude Debussy, Douglas Buchanan, Marie Herrington, and more! The concert will also be live streamed to our Facebook and YouTube channels: https://www.facebook.com/Stjohnswrp/ or https://www.youtube.com/c/StJohnsChurchWRP.